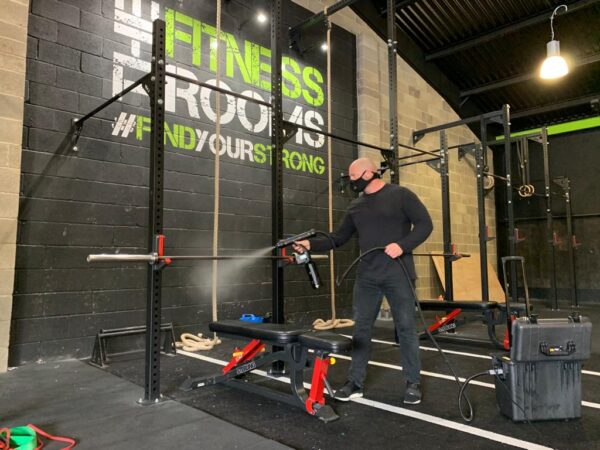 A popular city gym has reopened its doors and hopes to prove to members that gyms can be 'the safest place possible' with the right measures in place.
The Fitness Rooms, located at North Tyneside Industrial Estate in Benton officially opened its doors to all 200 plus members on August 3rd.
The business, which opened in 2014, has implemented the Nexus Envirosmart Programme as it looks to bring in new members thanks to its 'above and beyond' approach to environmental hygiene.
The programme, rather than providing a simple deep clean, ensures continued compliance with safety measures through the use of staff training and app technology, which monitors how people on site are abiding by rules surrounding hand sanitisation and more.
During the lockdown, the business was able to quickly pivot its offering and move towards offering online sessions, ensuring members stayed fit and active when at home.
Owner David Spark said: "We are delighted to be welcoming back our members, who can feel safe and secure in knowing that through Nexus we have gone above and beyond.
"We want to show that gyms can be the safest place possible for people when the environmental hygiene of the site is a top priority.
"What makes us unique is that people can't just come and go as they please, everything is done through guided training sessions and planning, focusing on diet and accountability.
"By implementing the Envirosmart Programme we have managed to transfer that ethos to our approach to environmental hygiene. Everything will be monitored and properly maintained.
"We believe that this will give everyone who walks through our doors additional peace of mind."
Nexus supports its clients with staff training on how to ensure continued safety going forward after a reopening, implementing hygiene practices designed to maximise the benefit of the treatment.
Managing Director, Jot Engelbrecht, said: "We are "The last few months have seen so many different sectors try to adapt to a rapidly changing environment and evolving guidelines.
"We set ourselves apart by providing a long-lasting environmental hygiene solution and are delighted that The Fitness Rooms have brought us on board to assist with their reopening."